What's happening at Belle Isle Community Church?
There's always something great happening at Belle Isle Community Church for you and your family. Explore our upcoming services and events and check out our full calendar below!
---
Church Office Closed
Our Office will be closed Monday and Tuesday, July 3rd and 4th, in observance of Independence Day.
Vineyard Sunday school | Sundays @ 9am
Join us for a time of fellowship, worship, exhortation, and study of God's word every Sunday at 9am in the Parlor!
Faithbuilders SUNDAY SCHOOL | SUNDAYS @ 9AM
Join us for a time of fellowship, study, and faith-building every Sunday in Room 212!
Monday Morning Prayer Time | Mondays @ 10am
Did you know that every Monday morning we have a time of prayer in our Chapel? The prayer request cards and any other requests are prayed for. You are welcome to join us Mondays from 10:00am - 11:30am in the Chapel.
Pastor John's Small group | Tuesdays @ 10AM
Come as you are and feel free to attend whenever you have time!
Men's Bible Study | Tuesday nights at 7:30pm
Join us as we study the curriculum from Man in the Mirror. There will also be light refreshments. Connect and grow together with other men.
The Truth Project | Thursdays at 6:30pm
Join Pastor John Weiand and other members of our church for a new weekly Bible study! The Truth Project is a video series hosted by Dr. Del Tackett and produced by Focus on the Family. This study helps us understand God's nature and character in practical, life-changing ways. Even if you have travel plans this summer, join us when you can! Childcare is not yet available, but we're working on it.
---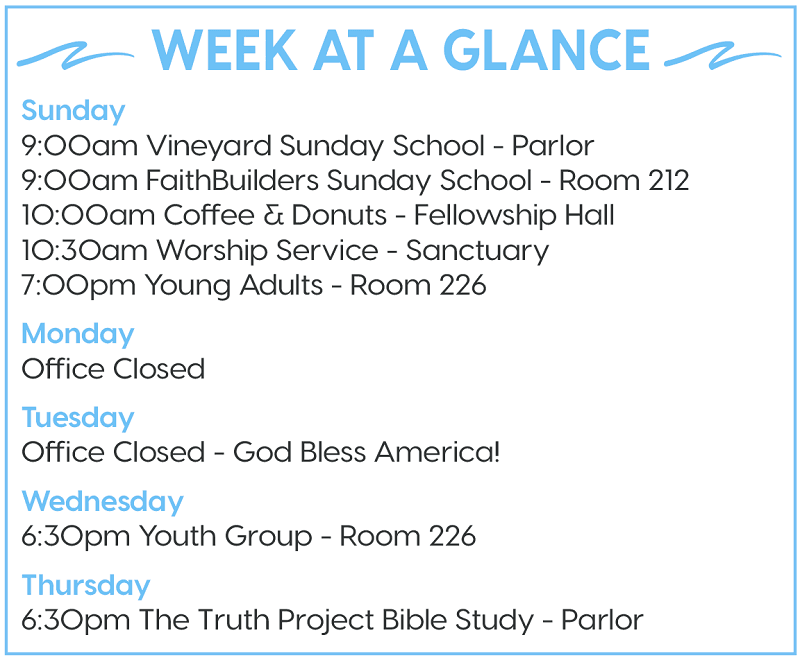 ---